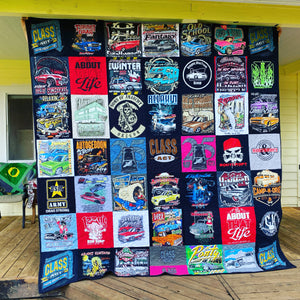 7 x 7 T-SHIRT MEMORY QUILT
7X7 T-SHIRT MEMORY QUILT
CUSTOMER WILL PROVIDE 49 PIECES OF APPAREL TO CREATE A 7X7 T-SHIRT MEMORY QUILT
APPROX SIZES IN INCHES:
7X7 BASIC:  94.5X94.5 (AS SHOWN IN PICTURE)
7X7 W/ SASHING:  110.5X110.5
7X7 W/ BORDERS:  105.5X105.5
7X7 W/ SASHING AND BORDERS:  121.5X121.5
*NOTE:  IF CHOOSING THE 7X7 W/ SASHING AND BORDERS, THIS OPTION CANNOT BE MACHINE QUILTED DUE TO THE SIZE OF THE QUILT. PLEASE CALL OR EMAIL QUILTS BY DANIELLE FOR ANY QUESTIONS ON MODIFICATIONS AND SIZING.* 
PICTURE SHOWS BASIC 7X7 T-SHIRT MEMORY QUILT AND SHOWS APPAREL IS CUT TO 14 INCH SQUARES.

QUILTS BY DANIELLE CAN USE ANY TYPE OF APPAREL TO CREATE YOUR ONE-OF-A-KIND T-SHIRT MEMORY QUILT
IMPORTANT: UPON COMPLETION OF YOUR ORDER, YOU WILL RECEIVE AN EMAIL DETAILING THE NEXT STEP. DO NOT IGNORE THIS EMAIL.
PLEASE READ OUR PAYMENT IN FULL/RETURN/REFUND POLICY IN THE QUICK LINKS ON THE BOTTOM OF THE PAGE.